FiveThirtyEight for Enterprise risk, Avatars, Chinese e-commerce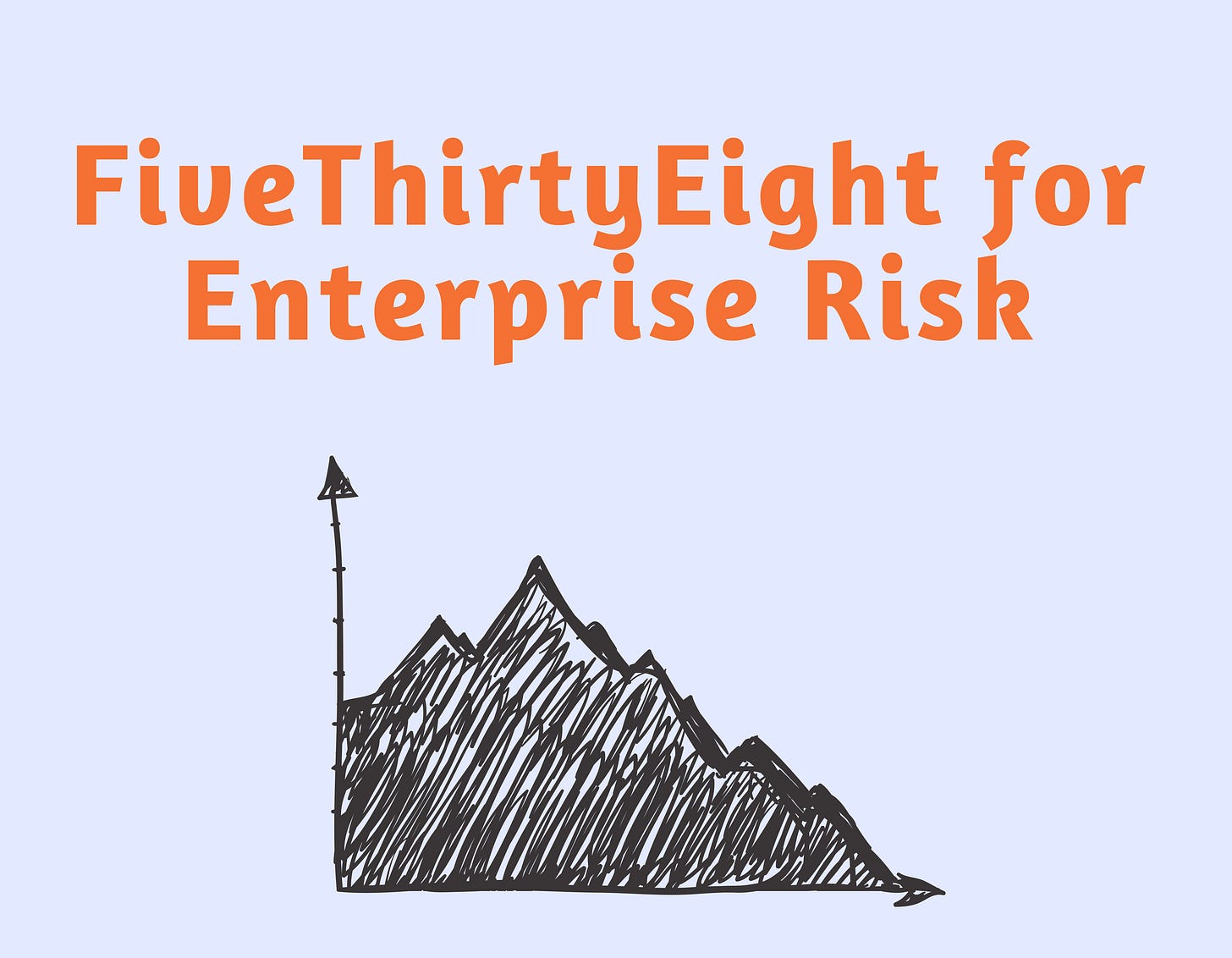 ​
We're back.
As you may have noticed, we held off on sending a piece last week. We didn't want to distract from the important conversations being had. We hope they continue.
This week, as always, our goal is to share ideas worth thinking about. It was awesome to see that play out the first time around. In response to Edition 1, we received emails from founders keen to build, investors interested in contributing, and operators intrigued to learn more. One particularly satisfying example: one reader wrote in noting that they were building Del Johnson's "YC for VC" idea. A couple of hours later, another reader wrote in asking if we'd heard of any similar programs. Connection made.
We hope this week will produce a similar discussion. To that end, we'd love to hear from you. Are there ideas you love? Hate? Businesses you'd like to see built? Companies you'd like to fund? We're all ears. We'd be particularly excited to hear from diverse voices, outside our immediate circle.
Finally, here's a quote from Antoine De St-Exupery, the author of The Little Prince, to get us into the right headspace.
A pile of rocks ceases to be rock when somebody contemplates it with a cathedral in mind.
Without further ado, let's get to the ideas themselves. Very lightly edited by us for the sake of clarity.
​
​
---
FiveThirtyEight for Enterprise Risk
Real-time risk assessment tools
Companies with global operations face a huge amount of complex and interconnected risk that they have little visibility into — making them susceptible to the cascading effects of shocks like trade wars, severe weather, and global pandemics. At the same time, new tools are getting better at modeling complex systems and their emergent properties in close to real-time. That makes it possible and valuable for businesses to have a "live" probabilistic model of their operations to make decisions and monitor real-time risk. Similar to FiveThirtyEight's election models but for your business!
— Dylan Reid, Principal at Zetta Venture Partners​
​
Amazon for buying companies
Marketplace for buying and selling small businesses
SMBs make up 99% of US businesses. Right now, the current buying and selling methods are broken — they occur primarily offline (newspaper ads, posters, word of mouth) There are a few online competitors (a signal of demand), but they are outdated. The experience can be reimagined and automated. Lifestyle businesses are becoming more popular — a marketplace like this can facilitate financing and discovery to make owning one of these businesses possible.
—Tina Jiang, Product Manager at Faire​
​
Taking Apple's lead
APIs for differential privacy
While the transition is far from complete, privacy is slowly moving from a "save your ass against GDPR/CCPA " to a feature set that consumers and enterprise users demand from applications. While some companies like Transcend and BigID help enterprises navigate existing PII and non-PII data, why collect it in the first place? Evervault seems promising with their "privacy cages" approach, though the actual functionality is a bit vague. There are unique ways to encrypt data at the device or client-level so that it never leaves users' hands, but can still be analyzed, understood, and interpreted. Apple is a leader in differential privacy, and it's often easy to say, "why don't we take what BigCo does and democratize it?" There's more nuance here, but making differential privacy methods available for legacy enterprises could be a useful endeavor.
—Aashay Sanghvi, Investor at Haystack​
​
Pinduoduo for the US
Social e-commerce platform
In just five years, Pinduoduo has attracted 585MM users and reached ~$140B in annual GMV. Much of the e-commerce platform's success has come from its "social buying" features, which encourage consumers to team up, order in bulk, and receive discounts. This premise could work well in the US. We're continuing to see a shift from thinking about supply-first (how much can we produce) to demand-first (how much do we need to produce). Solutions like Pinduoduo can limit supply chain waste, give consumers lower prices, and flip the cost structures of incumbents on their heads. It's a win-win.
— Turner Novak, Partner at Gelt​
​
Wirecutter, everywhere
A Chrome extension for embedded product information
In a world deluged by advertising, it's hard to know who to trust. Can you trust the products on marketplace or online stores? Most of these companies are advertising platforms now. To find a reliable product review, I usually have to do a huge amount of research myself. A dream of mine is to browse the internet and see product information embedded on individual shopping pages. Is the product legitimate? Who are the primary competitors? What are the key trade-offs? It could even show me when my friends bought something so I could get their take! A Chrome extension sounds like the easiest way to pull that off.
​— Anonymous, VC Investor
​
Portuguese prayer app
Faith-based Calm focused on the Brazilian market
I remember I was sitting on a plane when I listened to the episode of "The Startup" about the Spanish Bible app. To get to the point: Trevor McKendrick, an atheist, realized that Spanish language Bible apps were high-grossing but relatively underbuilt. Spending as little as an hour a month, McKendrick created two modern Spanish Bible apps that brought in over $100K a year in revenue. That was in 2012. Since then, audio products have only become more popular with meditation a particularly busy space. Though crowded at this point, the underlying dynamics of meditation apps — subscription-based, high-margin, habit-forming, evergreen content — remain attractive. Companies like Hallow have capitalized on these characteristics in the US market, but there may be equally attractive opportunities elsewhere. While there are an estimated 100MM Catholics in Mexico, Brazil has closer to 140MM. A Portuguese language prayer app could prove a relatively low-cost build and promising revenue stream. Other ways to play it would be a Spanish language app across all of Latam, or even a product serving different faiths. With 1.9B adherents of Islam and most existing apps focused on prayer times rather than prayer itself, the Muslim community might represent another intriguing segment. It should be noted that McKendrick apparently felt rather guilty earning his money from believers while being atheist. As such, this may be an idea best suited to those with real conviction.
— Mario Gabriele, Investor at Charge and Editor at The Generalist​
​
Virtual try-on for apparel
Avatar for online shopping
I often wish for something that would recommend clothes based on my body shape, then virtually show me how they'd look. On a personal level, it would drastically improve the online shopping experience. On a more global and environmental level, it would result in fewer returns and more efficient production as retailers are able to better forecast customer sizing.
— Camilla Mazzolini, Investor at Firstminute Capital​
​
Power-user productivity
Declarative CLI for business tasks
I hate redundant work. Employees spend countless hours on tasks that could be automated. Tools like Zapier have democratized building automation. Personally, I love the UX of the CLI. Imagine running quick scripts, backed by Zap-like recipes, to accomplish weekly tasks and pull data. Companies like Command E, and Akido are just starting to make inroads in this space. I'm excited to see increasingly powerful capabilities built!
— Anonymous, VC Investor
​
Streamlined metaverse
Twitter x Second Life
This sounds like the standard "let's build the metaverse!" idea, but I'm thinking of something simpler. I would love to combine something like Twitter, this real-time global conversation, with homes for each user. The normal feed would be the same, but when you pop into someone's profile, there could be a live chat going on, the music that person is listening to would be playing, a movie streaming, even audio or video drop-ins. I spend so much time in Twitter anyway, I would rather stay in there than pop into twenty different apps for each of those different things.
— Packy McCormick, Creator of Not Boring​
​
Tracking your vitals
Visualizing personal healthcare data
1. I use an Excel sheet to log, track, and visualize my health data. That involves a mix of data from my Garmin (sleep, RHR, HRV, etc.) and various blood tests. I know too many people that do the same. An app with a simple, intuitive UX to consolidate this would be incredibly beneficial.
2. I'd be a subscriber for life if the company also had an easily accessible and affordable (not Forward Health prices) network of tiny retail centers (could also be tents for all I care) that collect basic blood and health data once a month.
3. Pre-coronavirus I would've said this was really needed. Post-virus, it's a no-brainer.
— Issam Freiha, Partner at Reshape​
​
Thank you for reading. If you have someone in particular you'd like to hear an idea from, let us know. We'll do our best to get them into the mix. If you have an idea of your own that you'd like to share, ditto. And finally, if you enjoyed today's edition, consider sending it to the friend most likely to jump into the metaverse with you. You can send them to the link below.
​
Join RFS 100
​
Unsubscribe | Update your profile | 155 W 23rd St, 7th Floor, New York, NY 10011