Robinhood for retirement, Figma for data, and treating gambling addicts
​​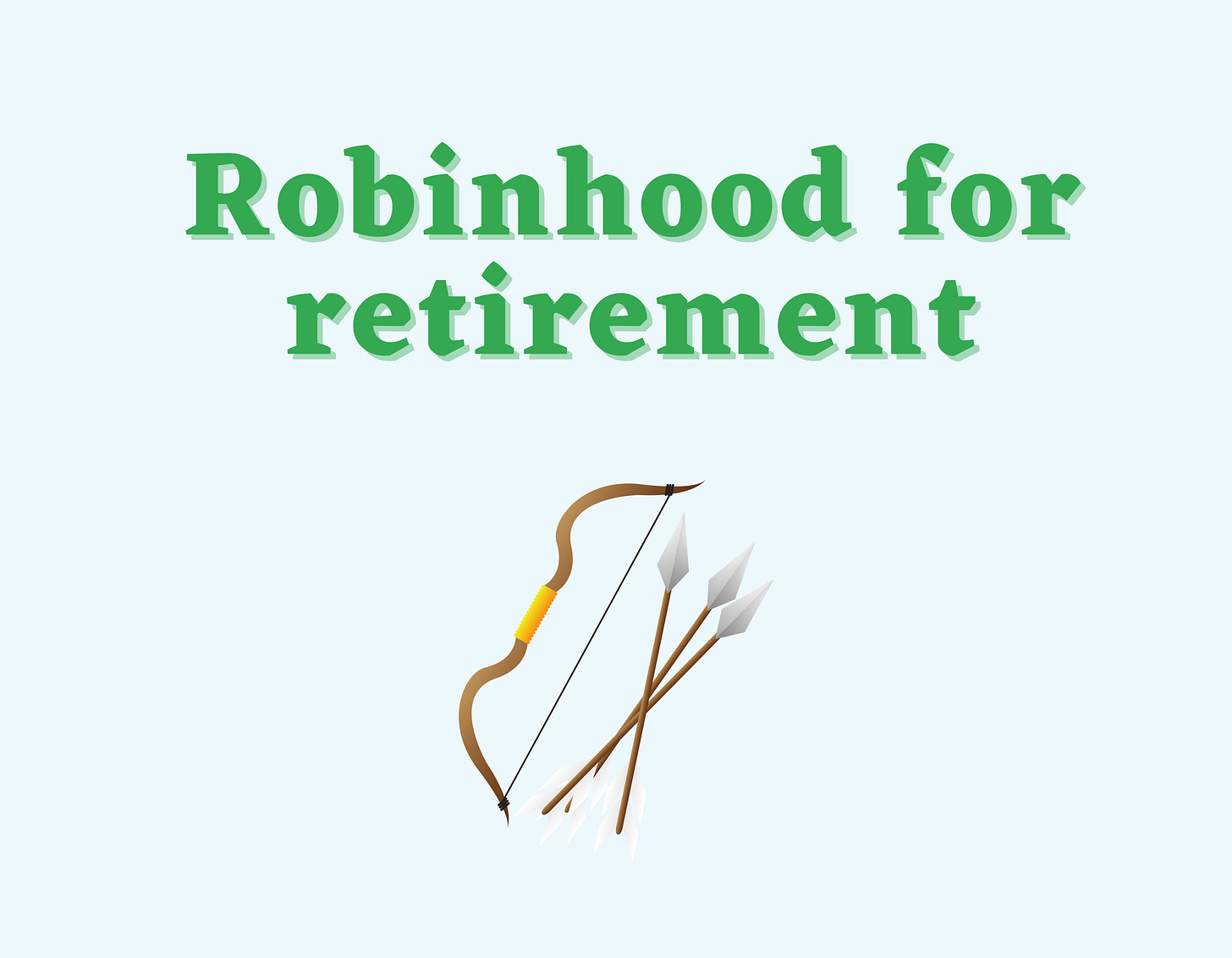 Ajay asked for "Cameo for normal people." Thanks to Michael, he found Vyrill.

Jimmy loved Sam's suggestion for "A better Goodreads." They're now in touch.

Quentin dug Mario's outline for "Zestful for home healthcare workers." The two went back and forth, riffing on state budgets, "Cash and Counsel" programs, and plenty more.
Three connections made. Awesome. We were also glad to hear from others who enjoyed the other submissions and just wanted to say hello. Thanks to all of you for writing in.
We want to make these connections more common. To that end, we're taking the suggestion of reader, Madeleine, and dipping our toes into filling out this budding community. We're starting with a small group chat made for sharing and discussing startup ideas. We'll unpack some of the ideas we've already talked about in the newsletter, in addition to airing new thoughts, too.
We're keeping things purposefully tight-knit to begin with, opening up over time. If you'd like to be a part of the first cohort, hit the button below. We'd love to hear from you.
​
This week's quote is one for all those idea-smiths that have to deal with doubters. From Voltaire, the writer:
Our wretched species is so made that those who walk on the well-trodden path always throw stones at those who are showing a new road.
Even 18th-century innovators had to handle the haters. Without further ado, let's get to the ideas themselves. Very lightly edited by us for the sake of clarity.
​
---
Looking under-the-hood
A dependency graph for system architectures
Fortune 500 enterprises have so many disparate systems, with knowledge transfer mostly siloed. To adopt newer tech, they need help understanding what's currently happening under-the-hood. A dependency graph showing how systems interact with each other would help these large enterprises reduce technical debt, streamline operations, and level-up their tech stack. It would also be a really cool thing to look at :)
— Shomik Ghosh, Principal at Boldstart Ventures​
​
Visor for startups
A better service for managing tax filings
Tax f*cking sucks. It's an endless headache for startups that can ill-afford to spend time on tasks beyond their core focus. Apart from wading through the morass themselves, startups can choose to hire tax firms. The problem is their extortionate pricing. There's so much room for improvement. Visor's combination of automation and outsourced labor seems to work well for consumers. A solution targeted at SMEs could be similarly effective.
— Joe Chittenden-Veal, Head of Automation at Invisible
​
Lambda for non-coders
Skills-based education with ROI for students and employer
Employers need workers trained with the right skills. Students need training programs that lead to employment and don't increase their debt. Both are craving ROI. By connecting both sides, and using creative financing solutions (ISAs and scholarships, to name just two options), training programs can deliver ROI to both employers and students: bridging the skills gap while tackling the student debt crisis. Lambda School, but for everything else.
— Chris Harper, Investor at Torch Capital​
​
Figma for data
A comprehensive and collaborative solution for data
Despite how much companies tout how data-driven they are, data collaboration is where design collaboration was pre-Figma. Before 2015, the design world was fragmented. There was Sketch (editor), Zeplin (version control), InVision (presentation), and others, all doing different things. Figma brought things together and created design systems. Data is similarly fragmented. There's Mode (editor), Looker (visualization), Alation (catalog), DVC (version control), Notion (documentation), and so on. If these tools were brought together, a data system could be created that enables rigorous and systematic data protocols across companies.
— Tina Jiang, Product Manager at Faire, and Zach Baker, Venture Partner at Contrary Capital​
​
Streamlining internal processes
Process mining and automation software
As the saying goes, "when you know better, you do better." For many teams, they may not know, in detail, how they really spend their days. Every team should have an easy and automated way to document their day-to-day processes. That visibility would allow them to understand bottlenecks and inefficiencies with greater clarity, allowing for operational improvements. Over time, workflows could be standardized or automation deployed to level-up.
— Chris Yin, Investor at Scale Venture Partners​
​
Call your grandparents
Hyper-simple hardware and software for video chat
Now, more than ever, we are looking for ways to connect. While we have a superabundance of solutions, everything is too complicated, especially for an older generation. I think there's space for an incredibly simple hardware/software product that allows for video calling, only between trusted contacts. That would allow me to chat with elderly relatives who can't figure out Facetime, Portal, or the other solutions on the market.
— Anonymous, Founder
​
The silent epidemic
Treating sleep apnea, end-to-end
80% of people that have sleep apnea don't know it. It truly is a silent epidemic, often contributing to diabetes and obesity. The 20% of people that make an effort to get help face a terrible treatment process. In many cases, they have to wait 3-6 months to get a bed in a sleep lab. Once there, they're hooked up to a range of systems, then asked to sleep as if they would at home. Across the board, it's a fractured, subpar experience. Better at-home diagnostics are part of the solution, but an end-to-end treatment would be a game-changer.
— Jason Fiedler, Partner at Left Lane Capital
​
Segment for payments
Distributed payments as a service
While it's hard not to love Stripe and its operational excellence, they're often not the sole payment processor a company uses. Companies with scale tend to integrate with a handful of payment processors, gateways, and banks to manage payment inflows and outflows through a distributed architecture. On top of integrating across many payment systems, companies need to manage cross-border conversions, payment failures, transaction immutability, and many other issues. I wonder if a new, cloud-native service could serve as the undergirding infrastructure. It might look something like Segment, but for payments data, rather than customer events. It could look something like Panther (in the SIEM world), which intriguingly latches onto Snowflake's data warehouse. There's a lot of possibility here, and I'm excited to see what people build!
— Aashay Sanghvi, Investor at Haystack ​
​
Robinhood for retirement
Simpler savings
I was an advisor to a company that sold last year and made enough that my accountant told me I should put some in a retirement account. Otherwise, I'd just be giving it to the government. Going through the process of making the account, funding the account, and getting it funded was painful. There were no mobile apps that simplified the process and had great UX like Robinhood does for buy and selling stocks. I think there's room for a company to make radical product improvements and serve early customers, growing with them over time.
— Alex Taub, Founder of Upstream​
​
Monument for gambling addicts
A digital Gambler's Anonymous
There are as many as 5.7MM pathological gamblers or "problem gamblers" in the US. Signs indicate a sharp rise over recent years. The BBC reports that in the UK, an analogous market, gambling-related hospitalizations have risen by 114% over the past six years. The pressure from this addiction can induce sufferers to commit crimes, or fall into psychosis.
The suicide of Alex Kearns last week, a 20-year-old with a negative balance on his Robinhood account, illustrates the way in which a gambling mentality has permeated other corners of the internet. We are increasingly conditioned to chase dopamine highs meted out at uncertain intervals — over investment platforms, and social media, as much as anywhere else. A telemedicine solution could better reach younger users, taking the digitally-savvy messaging of a Monument or Tempest and provisioning care online. That would include self-guided courses, targeted therapy, and even medication. Mood stabilizers and antidepressants are presumed to help.
— Mario Gabriele, Investor at Charge and Editor at The Generalist​
​
Thank you for reading. If you have someone you'd like to hear an idea from, let us know. We'll do our best to get them into the mix. We'd love to hear your ideas, too.
​
---
Bit by bit
Here's the tricky part about transparency: it doesn't work if you only share the good news. Last edition, we set a goal to grow by 422 subscribers to hit 4K subscribers by our 10th edition. We...didn't quite get there over the last seven days.
But the road is long, and there will be bumps! We'll keep sharing our progress all the same. And most importantly, we're having fun in the process :)
We'd love to have your smartest, most curious friends along for the ride. If you've been enjoying RFS, we'd appreciate you sharing it!
​
​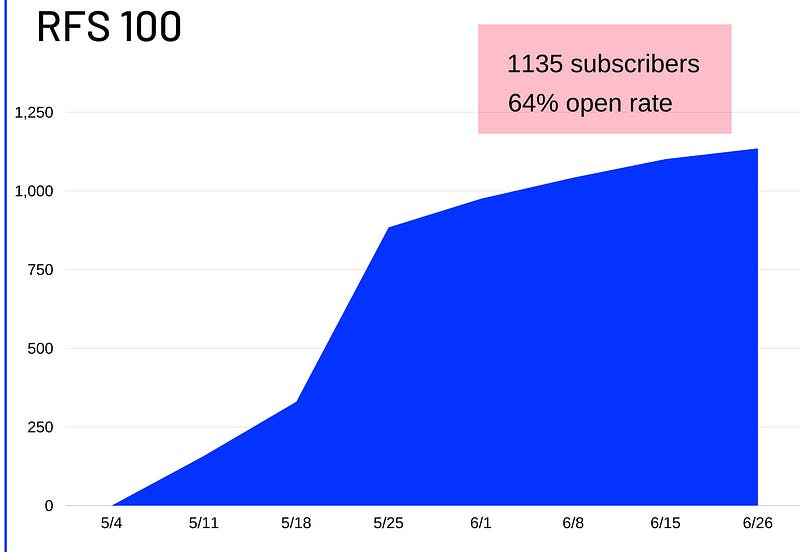 ​
​
Unsubscribe | Update your profile | 155 W 23rd St, 7th Floor, New York, NY 10011