RFS 100 | The winner? Shopify for restaurants 🥡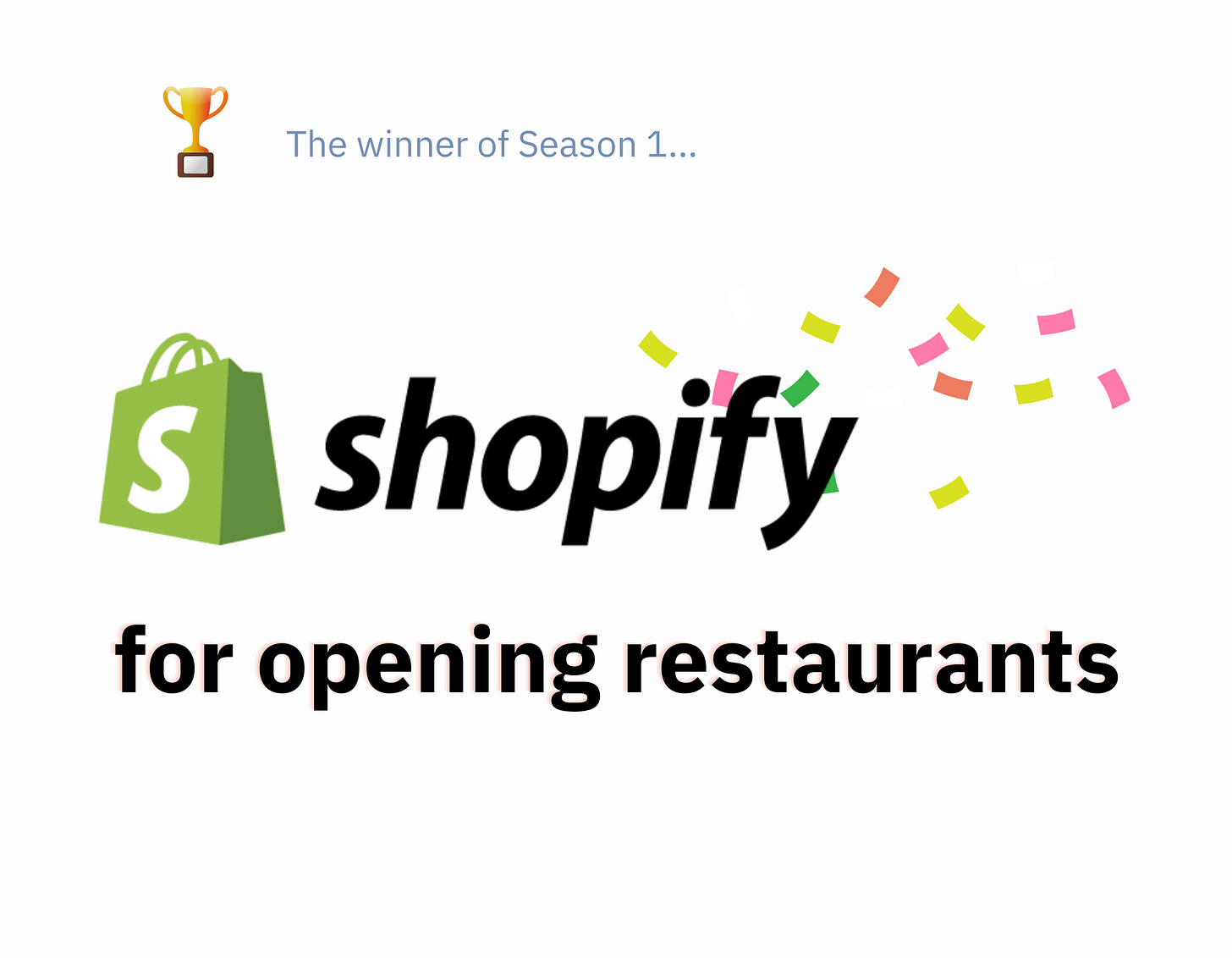 Ingenious friends,
It was a close-run thing, but the results are in. Of the most most-responded to RFS submissions, "Shopify for restaurants" was selected as your favorite of the season.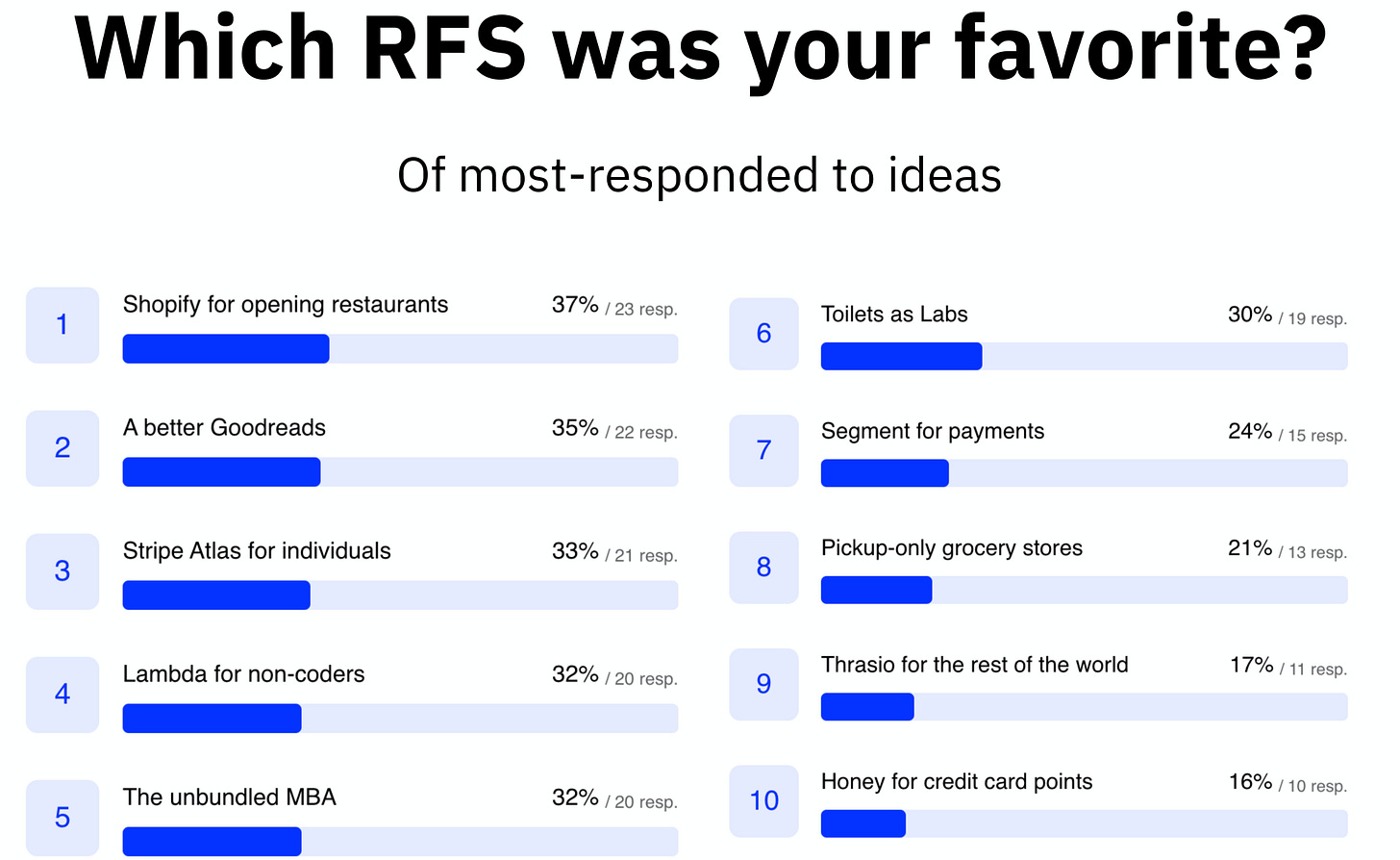 Other popular ideas included Sam Huleatt's "A better Goodreads," Dave Ambrose's "Stripe Atlas for individuals," Chris Harper's "Lambda for non-coders," Meera Clark's "The unbundled MBA," Claire Zau's "Toilet as a lab," Aashay's "Segment for payments," Molly O'Shea's "Pickup-only grocery stores," Ali Afridi's "Thrasio for the rest of the world," and my "Honey for credit card points." Folks probably picked that one to be nice.
Thank you to all for sharing their thinking.
As for the winning idea, that came from Jeremy Diamond. For those that haven't seen it, you can find the full text here, along with other submissions. You can find an excerpt below.
There's an opportunity for a Shopify-style company to help provide these benefits at a lower cost.

While the restauranteur would own the brand, the platform could assist with everything else, including menu planning, ingredient and consumable ordering, and marketing (both tactical and strategic). This could be coupled with software solutions, including point of sale, online ordering, kitchen management, and delivery service triaging.
Opening up
What's especially exciting to me is that Jeremy and I met through the RFS community, thanks to his thoughtful engagement in the group chat. I'm sure there are hundreds of other readers with great ideas they'd like to see the light of day.
To that end, I'm opening up the submission form to everyone. If you have a startup idea you'd like to share with the world in the hopes of getting feedback or seeing it get built, I'd love to hear from you.
I'll plan to share the most intriguing in Season 2, along with submissions from the great founders, investors, and operators I'm curating. No doubt the end result will be an even more lively and diverse set of submissions.
Day 1
Now that we have a winning idea, I'd like to try to facilitate pulling a group together to build a "Day 1 dossier" — essentially, a playbook of how a team might get started building off of the RFS.
To that end, if you're passionate about this idea and are excited to collaborate with a sharp group of ~5 or so others, I'd love to hear from you via the link below. If you have experience studying the food and restaurant space, even better.
This is very much an experiment, so if you have thoughts on what sort of output would be most useful, I'm all ears.
There's only one place to end this week. At an all-hands meeting in 2016, Jeff Bezos, famous for touting the importance of a "Day 1" mentality, was asked, "What does Day 2 look like?" His response?
Day 2 is stasis. Followed by irrelevance. Followed by excruciating, painful decline. Followed by death. And that is why it is always Day 1.
Happy Day 1,
— Mario
---
P.S. I'm going to be jamming on opportunities in the Creator Economy this Sunday with Josh Constine, Li Jin, Dave Ambrose, and Ian Kar. For folks that are interested in building in the space, it should be worthwhile. You can RSVP below.