The Unbundled MBA, Rakuten for humans, and androgynous Revolve
Welcome to new subscribers. RFS 100 exists to share and discuss startup ideas. Once a week, you'll get ten new "request for startups" from great investors, entrepreneurs, and operators.
---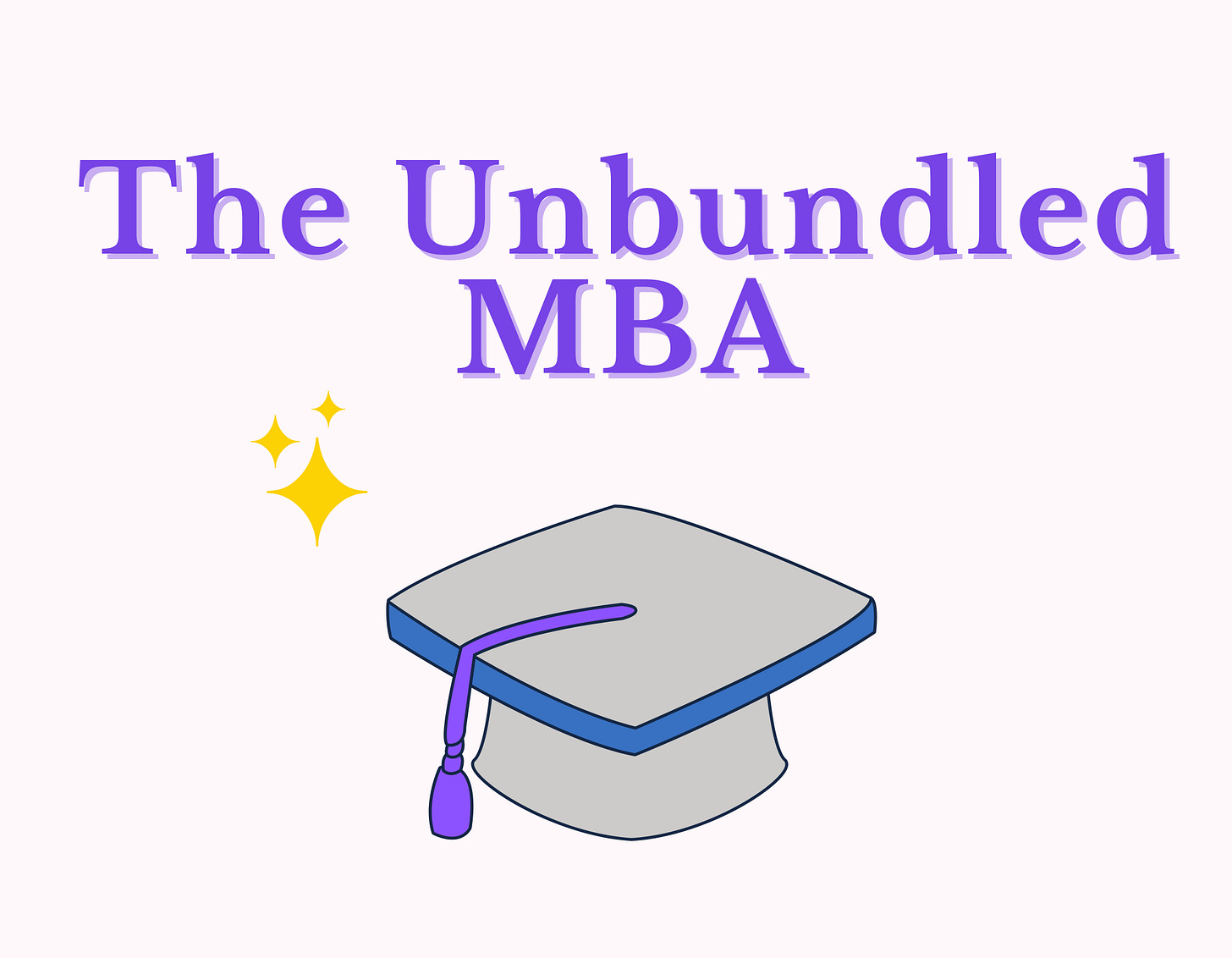 There's only one place to begin.
Thank you.
Last week, we asked for your help making our Product Hunt launch a success. We're grateful to all of you who voted, commented, shared online and sent us nice notes. It means a lot. The community is nothing without you all.
Also...it seemed to work! We were excited to over 500 votes, place in the top #10, and most importantly, bring over 500 new members into the fold. A big welcome to those joining us. We're so glad to have you here and hope you'll find the ideas and discussion valuable. If you have any questions, we're here to answer them. Just respond to this email.
On the subject of discussion, we've continued to add folks to the community bit-by-bit. This week, we jammed on Substack, podcast "highlighting" apps, and unbundling LinkedIn.
If those sound like fun conversations, you can apply to join by hitting the button below and telling us a little about yourself. We're focused on adding thoughtful, generous people to our motley crew. If you think we've missed your application or want to add anything, shoot us a note. We do our best to review everything but inevitably, things fall through the cracks!
On to the quote of the week. At its core, entrepreneurship is about making. Creating. Here's what Albert Camus had to say about that alchemical art, citing another Francophone:
Creating is living doubly. The groping, anxious quest of a Proust, his meticulous collecting of flowers, of wallpapers, and of anxieties, signifies nothing else.
That appeared in the collection, The Myth of Sisyphus and Other Essays. May we all lead the right kind of double life, experiencing the world twice-over and adding to it for others. Now, onto to the ideas themselves. Lightly edited by us for the sake of clarity.
— @mario_gabriele_ & aashaysanghvi_
---
Rakuten for people
Putting the power of promotion in the hands of the consumer
Turning your customers into your champions should be turnkey. For every product you buy as a consumer, you should have the ability to amplify that product to your network if you like it and benefit in some way.
I think there's room for a B2C referral platform aimed at the consumer market. Think Rakuten for individuals. Whether you just got a Peloton or rented a new apartment, you should be able to benefit from passing on a recommendation. A platform to organize and track those different offers could be really valuable.
— Alex Lieberman, CEO and founder of Morning Brew
Thrasio, elsewhere
A tech-enabled PE firm focused on e-commerce merchants
In short-order, Thrasio has become the "fastest US company to reach profitable unicorn status" (self-described in a recent press release). The company reached a $1B+ valuation after ~24 months in operation by rolling up a number of Amazon merchants under a single umbrella and optimizing operations and growth. Although there is platform risk associated with selling on Amazon alone (a platform becoming increasingly notorious for private-labeling), a Thrasio-style company can mitigate some of that by diversifying across categories, purchasing brands that have stronger brand affinity and retention, and expanding products to other industries.
Given the fast growth and high GMVs across hundreds of marketplaces around the globe, this approach should be replicable across markets. The approach could hypothetically work even better outside of the US in countries that ban marketplaces from selling private-label products (ex. India). Ping me if you're interested in exploring this!
— Ali Afridi, Investor at Equal Ventures
Digitizing the industrial economy
New ideas for systems of records
The presumption is that "software has eaten the world," but there are large swaths of the global economy — manufacturing, energy, mining, infrastructure development — that remain relatively untouched. These industries support massive companies that run on pen, paper, and maybe even Excel. See tweet from @Post_Market.
The atomic unit of these organizations is the frontline worksite. Better systems of record for data management, workforce planning, inventory management and procurement, safety and compliance, and so on should form around frontline worksites. In the past, the problem for startups has been enduring long sales cycles in the hopes of getting enough initial customers to have a market tip in their favor. One wedge I find fascinating (especially given COVID)? Business continuity planning and disaster recovery. How can you make it easy for operations managers to plan headcount, forecast different scenarios, and understand the health of their existing assets (ERP, cyber/edge networks, etcetera)?
— Aashay Sanghvi, Investor at Haystack
Home rolled devs
Teaching technical skills, practically
Many of the people I know who have successfully learned to code post-college have found that applying new skills to actual work is the best way to make sure lessons stick. As a product manager who was taught by a data engineer how to write SQL, who has then gone on to teach other product managers how to write Python and SQL, I can attest that it's a gift that keeps on giving.
I'd love to see a startup serve this use-case. Specifically, the company would help employees learn how to code by leveraging their employer's existing APIs and codebase. Lessons would be immediately applicable, and arguably much stickier.
— Jonathan Libov, Product at Bloomberg
The unbundled MBA
High-quality network curation supporting lifelong learning
What Chief has done to modernize and uplevel Young Presidents' Organization and intra-company women's networks, a NewCo should do to business school.
Roughly 200K students graduate with MBAs annually, many of whom spend almost $200K for the privilege. That equates to $40B in aggregated annual spend. While some matriculators return to school to acquire new tangible skills and pivot their careers, many enroll for (1) high-quality network expansion beyond their undergraduate and siloed professional networks, and (2) intellectually engaging discourse surrounding topics of the time.
Might one be able to fulfill these latter two variables through a modernized program? Could diverse and intellectually complementary cohorts coming together in high impact environments — think dinner series, week-long offsites, and so on — be the answer? In our increasingly interdisciplinary world, it's time for greater accessibility in higher education and between industry networks.
— Meera Clark, Investor at Obvious Ventures
The Yage Letters
Commercializing ayahuasca for a broader audience
As the saying goes, ayahuasca packs ten years of therapy into a single night. The oleaginous brew has been used in South America for generations, hailed for its healing properties. It is only in the last few years that American audiences have taken note.
For the mindshare it captures — frequently appearing in film and TV (including the disastrous recent season of Billions) — domestic usage is confined to religious groups and niche communities. Part of that is a question of legality, of course, but form factor plays a role. By all accounts, drinking ayahuasca is a mentally revelatory but physically repulsive experience. Users frequently vomit. The effects last for hours.
There's movement on both sticking points. Denver and Oakland decriminalized psychedelics, recently; a statewide statute may be adopted by Oregon in November. Lifting legal limitations will go some way in opening the doors, but modifying the product itself may be more important. ATAI Life Sciences has been dabbling with DMT in the hopes of delivering a potent but more palatable product.
Those with expertise could compete on formulation, but once that has been unlocked, plenty less specialized opportunities will emerge. Ayahuasca has shown to be particularly effective in addressing treatment-resistant depression, as well as potentially aiding in the reformation of inmates. Sector-specific service providers will emerge, along with discovery and review platforms. Ayahuasca is not without flaws, posing a risk to those with bipolar disorder or schizophrenia, among other issues. But I am optimistic it will do more good than harm.
— Mario Gabriele, Investor at Charge and Editor of The Generalist
P.S. Before you ask, I have not done ayahuasca. Disappointing. That said, I'm game. Would love to hear anyone's stories, confidentially or shared with the group.
Okay, what's really wrong?
Improving audits and compliance in healthcare
I wrote a long thing about how we're in a golden age of healthcare fraud that's yet to be uncovered. Money is flowing through the system with virtually 0 traceability or understanding of how it's being distributed. Most audits require a physical presence, ad-hoc spot checks, and are generally not scalable relative to the complexity of the system. How can we make audits more scalable and consistent?
This is not just limited to outright fraud, but also better monitoring of behavior to identify waste. As a thought experiment, what would happen if patients wore bodycams as they went through the health system? What behaviors on the care delivery side would change?
Separately, identifying fraud and waste is one aspect, but actually collecting owed payments and enforcing collection is tricky. Are there companies that help with these processes?
— Nikhil Krishnan, Founder of Out of Pocket
Calendaring for coaches
Infrastructure for solopreneurs
I'd love to see a tool that allows teachers, trainers, and coaches to create information-rich, multi-event or recurring calendar cadences for clients. I picture a drum teacher, or diabetes coach, giving clients a structured GCal event to learn and practice a new skill or behavior. While the reminder would be useful, there are ways to make it more valuable. These calendar events could integrate with curriculums, articles, to-do lists, and other resources. If the client's work was captured in a system of its own, these prompts could become increasingly intelligent with time, automatically prompting them to improve upon weaknesses.
In sum, a system like this would solve the client's question of "what should I practice, read, or do today to achieve my goals?" It might also drive more revenue for coaches as they deepen customer relationships.
— Omar Mohamed, Founder at June Care
Not just a coronavirus play
Pickup-only grocery stores
The supermarket and grocery industry is estimated at $682B as of 2020, growing at a rather torpid 0.5% a year. While the trend of the last decades has been towards ever-larger superstores (think Walmart and Target), there's an argument that more opportunity lies in moving in the opposite direction.
Smaller, pickup-only grocery stores could offer a few advantages, particularly in metropolitan areas. On the business side, they would reduce two of the biggest cost centers: headcount and footprint. Less expensive sub-street level space could be leveraged for storage, in addition to facilities outside a city. Customers could place orders ahead of time and have their orders ready to go when they arrived. Having customer's phone numbers would also be an advantage, allowing for special offers or other incentives to be shared.
Of course, minimizing social interaction is particularly important right now. But there are reasons to think this model might work post-pandemic, too.
— Molly O'Shea, Investor at Trail Mix
Androgynous Revolve
A trend-driven fashion house for Gen Z
Although e-commerce company Revolve hasn't fared well since IPO'ing in 2019, it remains a big business. It's current value stands north of $1B. The company's success has relied on responding quickly to trends and leveraging social media instead of traditional paid advertising. As social morays change, I think there's an opportunity to take that playbook and serve a new generation of consumers.
With Gen Z, we're seeing a shift away from conspicuous consumption to conspicuous participation. Fashion brands are becoming a critical part of social movements, serving as a form of expression. LGBTQI+ issues are becoming increasingly mainstream, partially driven by a more fluid conception of gender amongst the young. A recent survey found that 52% of Gen Z participants don't identify as "completely heterosexual," while 78% agree that gender no longer defines a person in the same way it used to.
There's the potential for a community-driven, media-savvy insurgent to build an iconic brand and business off of these changes. Phluid is an interesting player right now, as is Machine A. I think there's room for plenty of others.
— Tina He, Investor and Creator of Fakepixels
Thank you for reading. If you have someone you'd like to hear an idea from, let us know. We'll do our best to get them into the mix. We'd love to hear your ideas, too.
---
Onwards :)
Last week we shared our sneaky goal from the Product Hunt launch: hit 2,000 members. We're glad to say that we made it! We're now up to 2,260 members. Awesome!
We're grateful for your help in keeping the momentum rolling. Can we add another 240 people in the next week to hit 2,500? We'd love your help trying to make that happen. If you've been enjoying the newsletter, we'd appreciate you passing it on to a friend or sharing via the button below.
Thank you and have a great Friday.