We're on Product Hunt! Plus: 10 new ideas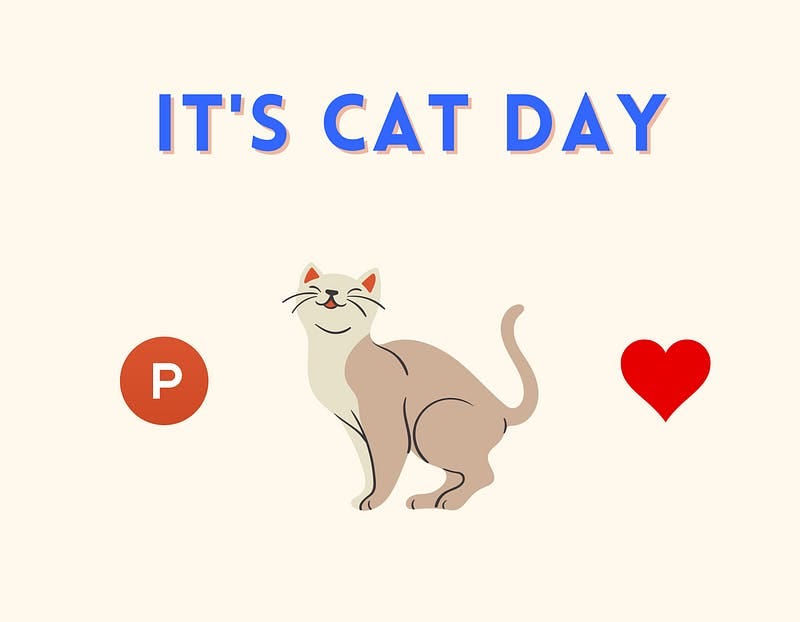 We are seeking blessings from the Beneficent Kitty in the sky. Today, we list on Product Hunt!
If you've been enjoying what we're doing here, we'd really appreciate your support. After all, the reason RFS exists is to share great ideas as widely as we can.
Here's how you can help:
Go to producthunt.com. Early voters may have to press "Show More" to see our beautiful blue :)

Navigate to RFS 100

Leave a comment
Tell us what you like about the newsletter, what you hope we'll do next, or any other thoughts you might have. Beyond that, look out for tweets from @mario_gabriele_ and @aashaysanghvi_. RTs and likes are super helpful!
In other news, we added a new cohort of folks to the group chat. It's been lively! In particular, the crew has been riffing on the benefits and foibles of the Lambda School model, the need for a grocery OS, and some great book recommendations. The House of Morgan by Ron Chernow about the banking dynasty looks especially fascinating.
If you'd like to join, just hit the button below and tell us a little about yourself. We love adding thoughtful, curious minds to the crew.
Before we turn to the ideas, our weekly quote, this time on the subject of "launches."
If you want to be a millionaire, start out with a billion dollars and launch a new airline.
It seems to have worked out alright for the author of that quip, Richard Branson. Now, onto to the ideas themselves. Lightly edited by us for the sake of clarity.
---
Good stock photos
Text-based synthetic stock photo generation
Finding good stock photography that suits your needs is a huge pain. Custom photo shoots are expensive and time-consuming. Off-the-shelf images are often cheesy or forced.
Why not combine Natural Language Processing (NLP), Computer Vision (CV), and Generative Adversarial Networks (GANs) to create a text-based system for generating stock photos? Sites like thispersondoesnotexist.com can already generate picture-perfect humans; the next step is to put them in context. Unlike high art or fashion photography, the images don't need to be perfect (expectations are already low), providing time for the technology to improve.
While the market for stock photography is modest (~$3-4B), the use cases for this technology are virtually limitless from movies to meme machines.
— Brett Martin, Founder and Partner at Charge
I-N-D-E-P-E-N-D-E-N-T physicians
Infrastructure and services for locums
Hospitals are too consolidated, and it's extremely hard to start a new practice in healthcare. There's a significant opportunity to unbundle the hospital by making it easier for physicians to get patients, open up a practice, and build processes that are specific to that service line. A few questions that are worth thinking through:
How can we enable physicians to take part in more virtual work and build patient panels with a lower upfront cost?

How can we enable independent physicians to make more money, participate in new reimbursement models, or have access to services that they wouldn't necessarily be able to hire a full-time employee for? I'd love to see a new tech-enabled managed services organization that can wrap around a practice to boost it.

How can we make it easier to identify a doctor that's actually good at a given service? Referrals right now are entirely based on word of mouth or relationships, not quality of service.

Can we bring the doctors to patients, instead of requiring patients to come to clinics? Can we embed physicians into areas patients already congregate?
Plenty of great companies can (and hopefully will) be built in solving these problems.
— Nikhil Krishnan, Founder of Out of Pocket
Universal shortcuts
A productivity meta-layer for super-users
As we spend increasing time on our computers, saving milliseconds on an often-repeated task can add up. One way to improve efficiency would be by creating a central shortcut library. The product would standardize shortcut keys used across different applications, allowing consumers to customize keys for canonical behavior. Users should be able to create a new email and create a new to-do with the same shortcut key, as opposed to memorizing "C" for Superhuman and "Cmd+N" for Things, for example.
Society will grow accustomed to shortcut keys as younger generations age and use more business and productivity applications. There should be a simple way for developers to support this behavior and allow cross-app defaults.
— Earl Lee, Founder and former VC at Costanoa
Stripe for payroll
An API to manage earnings
Payroll is incredibly complex. There is a plethora of different local, state, and federal taxes to consider, as well as retirement and withholding rules to navigate. Not to mention, HR professionals and employees want their payrolls to be highly configurable. There is also a lot of risk for the payroll vendor, as they are subject to fines if they mess it up. It's so complex that Gusto notoriously doesn't use their own payroll system. Two structural changes make this market interesting:
The rise of contractors and distributed work piles onto the complexity

More HR-related companies want to tack on payroll because it reduces churn
— Jeff Lu, Partner at Flex Capital
Love games
An otome studio for the US
Though originally from Japan, otome or "maiden" games have found an eager market in China. These story-based games are geared towards women, with the explicit goal of forging romantic relations between the player and game's characters. In this respect, it serves a similar purpose to the romance novels of Danielle Steele or even soft-core pornography, albeit with a primmer wrapper.
A year after its launch, hit otome game "Love and Producer" brought in as much as $47 million a month from players, suggesting a run rate of as much as +$500MM.
As of yet, few attempts have been made to penetrate the US market. While the anime-style artwork might require some rejigging, the fundamental mechanisms of such games are replicable. While an otome studio would be subject to the same power-law dynamics of other game makers (it's a hit-driven business), sparse competition provides plenty of white space.
— Mario Gabriele, Investor at Charge and Editor of The Generalist
Metrics, metrics, metrics
How do organizations actually become data-driven?
Companies talk a big game about how they let data drive decision-making. One roadblock to data-driven orgs is culture and practice. But, the other is better tooling. There's a surge of apps and companies that support data infrastructure, quality, testing, and so on. However, I believe there's still opportunity for inventive product design in the space, especially when it comes to user-facing business intelligence software. We need to go beyond visualizations! A few ideas come to mind. There should be a way to see past queries and questions users have asked. The system should also be able to parse natural language. An everyday business user might not know SQL, and the data team should not be the last line of defense. There should be workflows to actually align stakeholders around the most important metrics, and the software should support collaboration from 1 to 10 to 100 stakeholders who care about certain metrics and queries. A few companies worth noting include Preset, Sisu, and Transform.
— Aashay Sanghvi, Investor at Haystack ​
Benevolent piracy
Using OCR to extract data
By my estimates, somewhere between 5% and 95% of the world's information is locked in bitmap charts. That's a colossal waste of information.
One solution could be deploying OCR to scrape the charts, transforming the visual information into queryable data. While there could be some trickiness in monetizing, there's no doubt a compelling, valuable dataset could be accumulated.
It's screenshot piracy, but for the greater good!
— Jonathan Libov, Product at Bloomberg
Stripe Atlas for Individuals
Infrastructure for solopreneurs
Managing a business alone can be hard, but in the United States, over 70% of companies are "soloprenuers" and there's an accelerating trend that these businesses are digital-only. These hard working folks are tasked with managing finance, accounting, purchasing, sales, marketing and customer service. It can be daunting and veer the business-owner further away from their strengths.
We think there is an opportunity to build Stripe Atlas for individuals. This suite could span the creation, management and growth lifecycle of individuals ready to begin building their own company. Think "one click" and individuals have ready access to corporate entity formation, accounting, health insurance as well as website creation and marketing tools. The product begins first as a software offering to make the entire lifecycle formation and management easy but over time, there's opportunities to connect with various service providers as part of a marketplace.
— David Ambrose and Matt Ziskie, Venture Partners
Kickstarter for product features
Aligning interests and funding small software teams
Since its inception, over $5.12B has been pledged to Kickstarter projects. In the process, ~185K products have brought in the money needed to get off the ground. Although Kickstarter remains the obvious destination for new artistic projects, CPG brands, and some gadgetry, it is not built to drive software development.
I think a platform focused on that use-case could have legs. Product teams would be able to outline their proposed features and solicit upfront subscriptions from customers. In addition to funding new products, it would provide hugely valuable market feedback, aligning companies, and their customers.
— Martin Strutz, EIR at Human Ventures
Feed the animals
DTC pet care beyond cats and dogs
The most common pet in the US? Freshwater fish. Roughly 140MM aquatic friends are owned, beating out cats (94.2MM) and dogs (89.7MM). That indicates how many opportunities lie beyond the two pets that dominate mindshare. Indeed, over 20MM birds are owned, 14MM small animals are kept (think hamsters or rabbits), and 7.6MM horses. While spend varies across species (it's a very different financial decision to support a horse versus a guppy), there are nevertheless viable plays to be made in each category.
The Farmer's Dog has led the way in the dog food space. Could we see analogous companies emerge serving beloved steeds, parakeets, and bunnies?
— Jason Fiedler, Partner at Left Lane
Thank you for reading. If you have someone you'd like to hear an idea from, let us know. We'll do our best to get them into the mix. We'd love to hear your ideas, too.
---
Onwards :)
We're up to 1483 members. Huzzah! Great week. Our sneaky, secret goal is to hit 2,000 folks today. The best way to help us hit that mark is to visit us on Product Hunt and share your thoughts.
Grateful for you all!